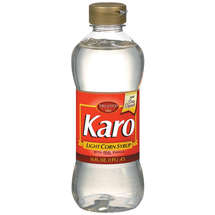 1 cup of Karo light corn syrup (red label). Use a scant cup of syrup and top off with 2 tablesoons of honey
1 scant cup of white sugar
1 cup of chopped pecans
Half a stick (¼ of a cup or 4 tablespoons) of butter, melted
3 eggs
1 tablespoon of cider vinegar
Pinch of salt
1 unbaked pie crust
Extra pecans for appearance
Preheat the oven to 350°F (180°C). Beat the eggs well with a whisk. Add the syrup, sugar, chopped pecans, butter, vinegar and salt and mix well. Pour the mixture into the pie crust. Use the extra pecans to make a design on the top. Bake for approximately 45 minutes.